For women, heavy drinking has been normalized. That's dangerous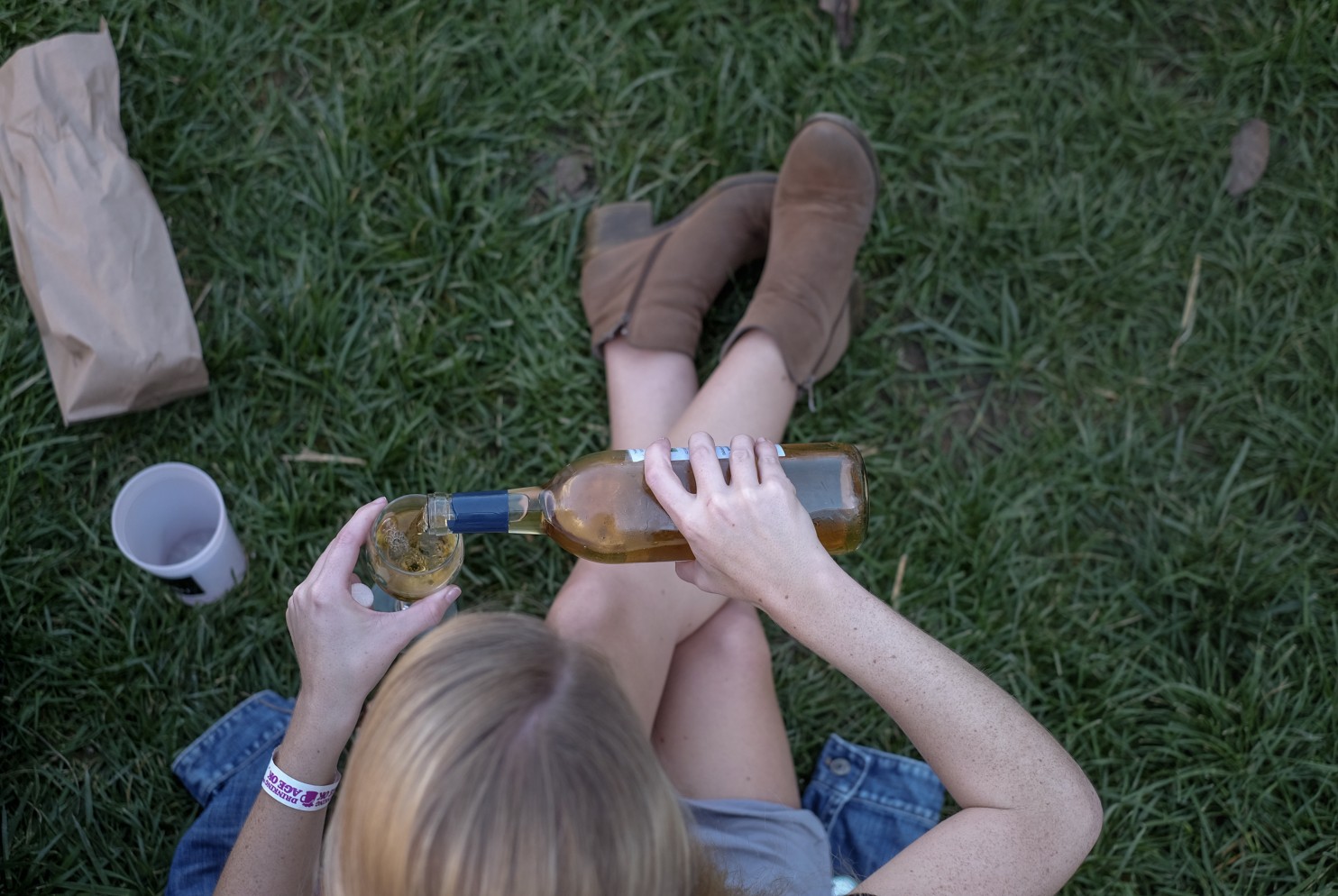 For women, heavy drinking has been normalized. That's dangerous.
UNNATURAL CAUSES | SICK AND DYING IN SMALL-TOWN AMERICA: Since the turn of this century, death rates have risen for whites in midlife, particularly women. In this series, The Washington Post is exploring this trend and the forces driving it.
The ads started popping up about a decade ago on social media. Instead of selling alcohol with sex and romance, these ads had an edgier theme: Harried mothers chugging wine to cope with everyday stress. Women embracing quart-sized bottles of whiskey, and bellying up to bars to knock back vodka shots with men.
In this new strain of advertising, women's liberation equaled heavy drinking, and alcohol researchers say it both heralded and promoted a profound cultural shift: Women in America are drinking far more, and far more frequently, than their mothers or grandmothers did, and alcohol consumption is killing them in record numbers.
White women are particularly likely to drink dangerously, with more than a quarter drinking multiple times a week and the share of binge drinking up 40 percent since 1997, according to a Washington Post analysis of federal health data. In 2013, more than a million women of all races wound up in emergency rooms as a result of heavy drinking, with women in middle age most likely to suffer severe intoxication.
This behavior has contributed to a startling increase in early mortality. The rate of alcohol-related­ deaths for white women ages 35 to 54 has more than doubled since 1999, according to The Post analysis, accounting for 8 percent of deaths in this age group in 2015.
"It is a looming health crisis," said Katherine M. Keyes, an alcohol researcher at Columbia University.
Although federal health officials and independent researchers are increasingly convinced that even moderate drinking poses health risks, American women are still receiving mixed messages. Parts of the federal government continue to advance the idea that moderate drinking may be good for you. The National Institute on Alcohol Abuse and Alcoholism, a division of the National Institutes of Health, is overseeing a new $100 million study, largely funded by the alcohol industry, that seeks to test the possible health benefits of moderate drinking.
Meanwhile, many ads for alcohol — particularly on social media — appear to promote excessive drinking, which is universally recognized as potentially deadly. These ads also appear to violate the industry's code of ethics, according to a Post analysis of alcohol marketing.
For example, when girl-power heroine Amy Schumer guzzled Bandit boxed wine in the movie "Trainwreck," Bandit's producer, Trinchero Family Estates, promoted the scene on social media. Young women responded with photos of themselves chugging Bandit. Within months, Trinchero said, sales of boxed wines — sometimes called "binge in a box" — jumped 22 percent.
"We saw it first with tobacco, marketing it to women as their right to smoke. Then we saw lung cancer deaths surpass deaths from breast cancer," said Rear Adm. Susan Blumenthal, a former U.S. assistant surgeon general and an expert on women's health issues. "Now it's happening with alcohol, and it's become an equal rights tragedy."
Alcohol marketing is regulated primarily by industry trade groups, but dozens of studies have found lapses in their record of enforcing the rules. As a result, an international group of public health experts convened by the World Health Organization's regional office in Washington, D.C., plans to call in January for governments worldwide to consider legislation similar to laws adopted a decade ago to sharply curtail tobacco advertising.
"The industry's system of self-regulation is broken," said Thomas F. Babor, a professor at the University of Connecticut School of Medicine who is aiding the effort. "The alternatives are clear: Either you have to take their system and put it into independent hands, or you have to go with a partial or full legal ban on alcohol marketing."
[Nine charts that show how white women are drinking themselves to death]
Officials with the Distilled Spirits Council of the United States (DISCUS), one of the largest U.S. trade groups, defend their record of oversight, saying it has received high marks from federal regulators.
"The Council's Code of Responsible Practices sets more stringent standards than those mandated by law or regulation, or that might be imposed by government due to First Amendment constraints," council Senior Vice President Frank Coleman said.
DISCUS tells members that ads should not "in any way suggest that intoxication is socially acceptable conduct." The Beer Institute tells members that their "marketing materials should not depict situations where beer is being consumed rapidly, excessively." And the Wine Institute prohibits ads that make "any suggestion that excessive drinking or loss of control is amusing or a proper subject for amusement" or that directly associate use of wine with "social, physical or personal problem solving."
But these rules appear regularly to be flouted, particularly on alcohol companies' websites and ­social-media feeds, which are soaking up a growing share of the more than $2 billion the industry is expected to spend on advertising this year. And the trade groups acknowledge that they do not investigate or act on possible violations unless they receive a formal complaint.
Some of the edgiest ads appear on social media — Facebook, Twitter, Instagram — where they can be narrowly targeted toward the inboxes of the most eager consumers.
"They can be very specific," Facebook spokeswoman Annie Demarest said. "The ads could go to married women ages 21 to 60 who read about wine and leisure. They can also target the ads based on location, interests, demographics, behaviors and connections."
Jokes about becoming inebriated are common. One Twitter ad features a woman with a bottle the size of a refrigerator tilted toward her lips. Its contents: Fireball Cinnamon Whisky.
Women also are frequently shown drinking to cope with daily stress. In one image that appeared on a company website, two white women wearing prim, narrow-brimmed hats, button earrings and wash-and-set hair confer side by side. "How much do you spend on a bottle of wine?" one asks. The other answers, "I would guess about half an hour . . . " At the bottom is the name of the wine: Mommy's Time Out.
Another ad on a company website features a white woman wearing pearls and an apron. "The most expensive part of having kids is all the wine you have to drink," it says above the name of the wine: Mad Housewife.
This spring, Mad Housewife offered a Mother's Day promotion: a six-pack of wine called Mommy's Little Helper.
The trend extends to ­wine-related housewares. A flask promoted on the Mad Housewife site features two women from the "Mad Men" era asking, "Who is this 'Moderation' we're supposed to be drinking with?"
An ad on the Etsy marketplace website promotes a stemmed glass big enough to hold an entire bottle of wine with the line: "She will be telling the truth when she says 'I only had 1 glass.' " And Urban Outfitters — a retailer that markets to 18- to 28-year-olds — stocks whole-bottle wine glasses that say: "Drink until your dreams come true" and "This is how you adult." Urban Outfitters did not respond to calls and emailed messages.
Alcohol marketing experts see a feedback loop between alcohol advertising and popular culture. They cite Trinchero's repurposing of Schumer's scene in "Trainwreck" as a prominent example.
"The rise in hazardous drinking among women is not all due to the ads. But the ads have played a role in creating a cultural climate that says it's funny when women drink heavily," said Jean Kilbourne, who has produced several films and books about alcohol marketing to women. "Most importantly, they've played a role in normalizing it."
Multiple experts on alcohol marketing said Trinchero's use of the scene to promote its wine violated industry standards.
Wendy Nyberg, Trinchero's marketing vice president, defended the company's behavior, saying Trinchero officials had no role in the production of "Trainwreck" and no control over how their wine was portrayed. It's "easier when you control the messaging," she said, adding: "We have to promote moderation in everything that we do. We stick to the code of ethics."
The owner of Mommy's Time Out did not respond to requests for comment, and marketing promotions sent to the company for a response have been removed from the company's public Facebook page.
Damian Davis, the owner of the Seattle-based Rainier Wine, which produces Mad Housewife, said he does not think his ads crossed a line.
"We treat wine like a lifestyle product. I grew up in a big Catholic family, and having it with dinner was a way of life," Davis said. "I certainly don't encourage binge drinking. It certainly is a drug, and it can be dangerous."
Even responsible drinking campaigns can send conflicting messages. A Facebook ad for Smirnoff Ice — ranked among the five most popular beverages by young female drinkers — shows a stack of caps from four pint-size bottles. The tagline: "Know Your Limit."
(...omissis...)
copia integrale del testo si può trovare al seguente link: https://www.washingtonpost.com/national/for-women-heavy-drinking-has-been-normalized-thats-dangerous/2016/12/23/0e701120-c381-11e6-9578-0054287507db_story.html?utm_term=.324b0b5d77f5
(Articolo pubblicato dal CUFRAD sul sito www.alcolnews.it)